Check out my most popular karaoke sets Here !!




All CDG karaoke discs are instrumentals with on screen lyrics



PLEASE NOTE THESE NEED TO BE PLAYED ON A NEWER KARAOKE PLAYER, CHARTBUSTER CAN HAVE ISSUES ON OLDER PLAYERS. THEY PLAY GREAT ON A PC WITH KARAOKE SOFTWARE
Song Title Song Made Popular by Track # Wolverton Mountain Claude King 1 She's Got You Patsy Cline 2 Salty Dog Flatt & Scruggs 3 She Thinks I Still Care George Jones 4 Ring Of Fire Johnny Cash 5 Faded Love Patsy Cline 6 Talk Back Trembling Lips Ernest Ashworth 7 Love's Gonna Live Here Buck Owens 8 I'm Leavin' It All Up To You Dale & Grace 9 Lonesome 7-7203 Hawkshaw Hawkins 10 Anytime Patsy Cline 11 Still Bill Anderson 12 Abilene George Hamilton IV 13 Back In Baby's Arms Patsy Cline 14 Detroit City Bobby Bare 15 Misery Loves Company Porter Wagoner 16 Don't Let Me Cross Over Carl & Pearl Butler 17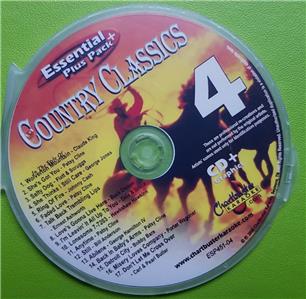 Pictures sell!
Auctiva Free Image Hosting. Show off your items with
Auctiva's Listing Templates


Auctiva,
THE simple solution for eBay sellers.